GLI Field Inspection System Verification Services - Top 6 Checklist
Field Inspection Services System Verification By GLI:
Secure Your Floor. Protect Your Data. Ensure Your Profits.
Your casino's slot management system (SMS) is the heart and soul of your gaming operation. It communicates with and controls virtually every electronic gaming device on your floor 24/7. But how can you know for sure that your SMS is secure and providing you with accurate accounting data? How do you know if your SMS is vulnerable to a potential cyberattack, putting your most sensitive and valuable customer data at risk? And can you be 100% certain that every single one of your EGMs are fully compliant?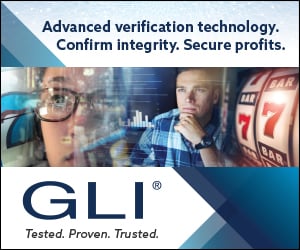 You can, with a Field Inspection Systems Verification by GLI. Using the industry's most advanced and proprietary verification technology, GLI's expert field inspection technicians will thoroughly test and verify your SMS to the most exacting and rigorous standards. So, you can rest assured that your games are fully compliant and working correctly, and that your SMS is operating at optimal efficiency.
Don't let unverified files, unoptimized games, and undetected accounting errors jeopardize the integrity of your casino's slot operations. Request a comprehensive GLI system verification today.
Because peace of mind is priceless.

Upon hitting submit on the form to the right, you will receive an instant link to download GLI's Field Inspection System Verification Services - Top 6 Checklist. The fields marked * are mandatory.